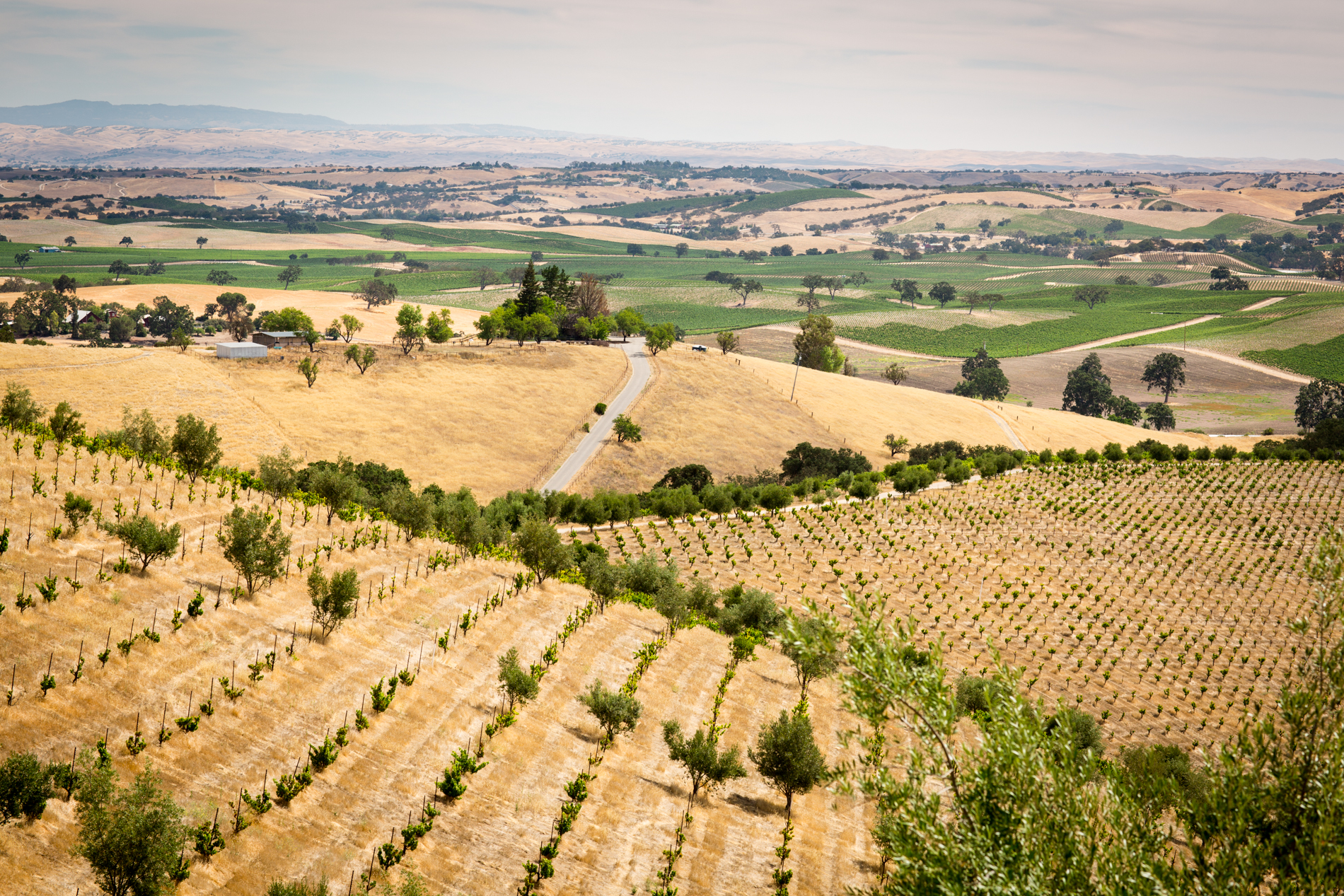 There was never a grand plan at AmByth Estate, beyond trying to understand our land and treat it the best way we could for future generations (thus the name AmByth, meaning "forever" in Welsh). The land was purchased in 2 parcels, in 2000 and 2001. In 2003 Biodynamic preparations started to be added to our land in homeopathic quantities, setting the scene for the Earth to function in as healthy a way as possible. Vines and olive trees in the lower vineyard were planted in 2003 and the upper vineyards in 2005. Each vine had 5 gallons of water from a drip bucket prior to a winter season and that is all the water that was provided to establish themselves, the rest came from rainfall. The first decent year for harvest was in 2010, 2011 would have been a good year but a late frost destroyed half the crop. Then we were hit with 5 years of drought with extremely minimum rainfall followed by 2 years of near average. The vines have survived and now are producing what we believe to be the best quality juice for wine in the region. We are stewards of the land, doing the best we can. Learning from others and mostly ourselves with what we are given.
Meet the Team
Phillip Hart- Founder and Winemaker
Mary Morwood Hart- Founder and Partner
Phillip Hart grew up on a sheep farm in North Wales. The first time his father plowed after WWII, he used oxen. These beginnings perhaps led to the desire to grow our products naturally and make pure wine with no chemicals. Phillip speaks at occasional seminars and panels and pours and shares AmByth around the world.
Mary Morwood Hart grew up on a horse and cattle farm in Oklahoma. Her mother was devoted to organic vegetable gardening in their home garden. She attributes her belief in pure farming to witnessing her mom's pursuit of purity on the farm. Mary is Phillip's other half and helps any way she can. Together, they have a son, Bede, who is homeschooled and lends a helping hand when needed.
Gelert Hart- Vineyard Manager, Winemaker
Robyn Hart- Marketing, Wine Club, Sales
Gelert grew up on the sunny coast of southern California and completed a Recreation and Tourism Management Degree at San Diego State University. After college, he moved to Montana enjoying and working in the great outdoors and then Hawaii working with the largest food broker for the islands. Gelert came back to his California roots when his father invited him to learn the ways of AmByth and eventually run the vineyard and winery. He knew from an early age he did not want to wear a suit and tie and sit-behind-a-desk lifestyle so outdoor vineyard work and craftsmanship of creating wine is the perfect fit. Learning mostly from Phillip and reading literature, Gelert now carries out all aspects outside and inside, also on the road with pourings and sales.
Robyn is originally from Hawaii and decided to attend college on the mainland in San Diego where she met Gelert. After a stint of fine restaurant management in Montana and working closely with wine selections, finding her role at AmByth seemed second nature. Robyn now enjoys meeting visitors to the estate, pouring intimate tastings, and you can even find her helping in the vineyard and the winery. Gelert and Robyn recently just welcomed the next generation of AmByth with their son Kyler born in March 2018. Gelert and Robyn joined AmByth full time in 2015.